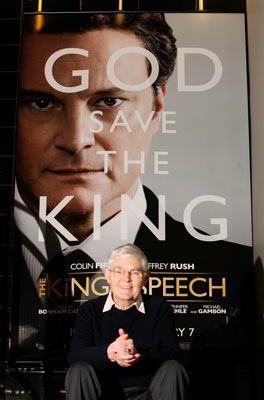 I arranged with The Broadway Cinema, Nottingham to do two short presentations before daytime showings of the film to raise some awareness of stammering with audiences.
This idea snowballed, though. The BSA press release was passed to the 'Post', our local paper, and an interview followed. On publication, ITV Central asked for a recorded interview with my wife, Joyce and I on how we had both coped with my stammer. All this was preceded by a live interview on BBC Radio Nottingham, involving Joyce, our SLT Carolyn Desforges and I.
I knew that my speech was better now than it ever has been, due to therapy and a gradual improvement, so I wasn't afraid to get involved with these different types of media and speak out. The radio interview was positive, lasting around twenty-five minutes and the studio received several calls, emails and texts whilst we were on air.
I was almost thrown out of my stride on discovering that Screen 1 at the cinema was full to capacity - due to local and national publicity on the film - and I had to stand on stage under a bright spotlight to deliver my presentation. (Usually it would be half-full in the daytime and introductions are done from the front seats). Fortunately - using slow prolonged speech technique - my stammer was in check and I received encouraging applause and warm comments from the patrons in the foyer afterwards. The afternoon attendance meant that all four screens were filled to capacity - a record for the cinema.
The ITV interview was screened across the Midlands that evening and was given the thumbs-up by several old friends, neighbours and two former members of our self help group, who may now rejoin.
A tiring, but very worthwhile few days.
David Preece, Nottingham